Stay connected

Toll Free: 1.866.955.2269
Phone: 780.955.2225
Fax: 780.955.3059
E-Mail: sales@a-1truss.ca

Find us here

A-1 Truss Ltd.
1006 - 17 Avenue
Nisku, AB T9E 0G5
Quality meets affordability

Roof Trusses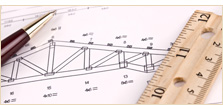 Wood trusses are widely used in single- and multi-family residential, institutional, agricultural and commercial construction. A truss is a structural frame relying on a triangular arrangement of webs and chords to transfer loads to reaction points. This arrangement gives them high strength- to-weight ratios, which permit longer spans than conventional framing, and offers greater flexibility in floor plan layouts. They can be designed in almost any shape or size, restricted only by manufacturing capabilities, shipping limitations and handling considerations. Wood trusses can be used to build in attic space, as well as coffered and cathedral ceilings. Light frame wood trusses are prefabricated by pressing galvanized steel truss plates into wood members that are pre-cut and assembled.
In Canada, most new houses are built with wood roof trusses. It's not surprising considering their:
Strength: Trusses provide a strong and efficient structural wood system specifically engineered for each application.
Economy: Through efficient use of wood and by providing a system that is installed in as little as half the time of conventional wood framing, wood trusses provide an economical framing solution.
Versatility: Complex shapes and unusual designs are easily accommodated using wood trusses.
Environmental Benefits: Wood, the only renewable framing material, has numerous environmental advantages. Wood trusses enhance wood's environmental advantages by optimizing wood use for each specific application.
Engineered Floor Systems

Silent Floor® joists—also known as TJI® joists—are lightweight, easy to work with, and deliver unmatched dimensional stability and performance. They're engineered to resist the bowing, twisting, and shrinking that can lead to squeaky or "soft" floors, helping reduce callbacks after the floor is finished. Other benefits are that TJI® joists are:
Uniform and predictable
Resource efficient
Resists bowing, twisting, and shrinking
Available in long lengths
Works for both floors and roofs
Capacity for large holes
Silent Floor® joists are engineered to precise specifications for consistency and dimensional stability. Being lightweight, even long Silent Floor® joists are easy to handle and carry. They come with pre-drilled knockout holes in the web for wiring, and the Framer's Pocket Guide (available at www.iLevel.com) provides information on how and where to drill additional holes for HVAC ductwork or plumbing drops.
Every new homeowner wants a floor that feels solid underfoot. The TJ-Pro Ratings System gives you the best method for delivering predictable floor performance, proving that indeed the sum of the whole can be better than the parts. The TJ-Pro Ratings system allows builders to dial in floor feel by evaluating the combined effects of TJI® joists, spacing, floor decking, and the method of attachment, leading to a floor that feels perfect to each homeowner. Simply bring us your blueprints and we can map out and design a floor layout for you.
Floor Trusses
Builders are discovering that floor trusses are the solution to many of their floor framing problems. Floor truss installations create high quality, squeak-free construction with the added benefits of reduced framing time, waste, pilferage, and callbacks. Design versatility and open web spaces are tremendous advantages to builders of today's complex and sophisticated homes.
Long spans and girder truss options reduce the need for intermediate bearing walls, beams, columns or footings saving time and construction costs and also creating more open spaces.
The open web configuration leaves plenty of room for plumbing, electrical, and mechanical runs reducing need for dropped ceilings.
Shrinkage, warping or twisting are minimized, reducing the potential for callbacks to the job site.
Stiffness and strength can be designed into the floor truss, creating a more solid floor.
Special bearing, cantilever and balcony details are easily built in.