Welcome to the Home Page of the NetKnow Sysadmin.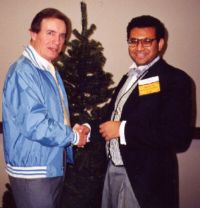 This is the only picture of myself with Anthony Ainley. Anthony did at this convention, Visions 1993, encourage me to enter the costume contast. I did not and now I regret it. Anthony Ainley died 9 May 2004.
This Page is based on the personality of Dave Yadallee and is not reflective of the company he has set up Netknow.
Dave Yadallee Comptia Career ID Number Comp001007222136 is now A+ Certified PRofessional IT Technician as of 20 June 2008.
Dave believes in completeness, so never say a Domain is a Web Page URL!!
Try http://www.nk.ca versus nk.ca. Which worked and which did not?
Dave Yadallee is An Advanced Toastmaster Silver and competent leader and is a member of the Edmonton Chamber Toastmasters.
Are you looking for a World wide Web PAge or a World Wide Wait Page? For a Web Page, develop for a 486 with 8 MB of RAM and you got it,otherwise chug, chug, and go to sleep while waiting.
For effective Web Page Development go to Bandwidth Conservation Society , W3 Consortium and Bennaco The Technical Writers .
News From the World
Anthony Ainley dies
BBC article
Shannon Sullivan's DW page BBC announces return
The BBC Doctor Who announcing return
The Telegraph of the UK reports return
Commentary on what next
CNN reports Doctor Who return
SF Crowsnest (looks like limited time)
BBC announces ninth doctor
Christopher Eccleston is the doctor
Canadian Broadcasting Service carries Doctor Who. Check the schedule .
BBC Radio 2 celebrates
. Finally the news CLips from BBC World Service Television about the breach that happened as promised. Windows format Movie format .
Profile of Matt Smith, Doctor number 11.
Doctor Who Fan links
Doctor Who Web guide
Relative Dimension
Gallifrey Online
Outpost Gallifrey
Eye of Horus
Doctor Who and his Blue Box
UK's Doctor Who Online
Tachyon TV
TimeLord
Who in the Cavern
UK's Action TV
Doctor Who Picture Page
Doctor Who Web Guide
Doctor Who Home Page
The TARDIS Webguide of Lycos
Actress Deborah Watling
Actor Mark Strickson
Actress bonnie Langford

Thank you Nick Fitzpatrick
Vote at DW Poll
and see the rankings
See the history and The FAQ .
Some of the contributors. Who is Doctor Who . Temproal Orbit .
Arsenal of London
The best EVER UEFA Football club Click here
BSD Unix
Wind River ends BSD/OS!! Will BSD survive?
The latest from Chris Coleman/ BSD Mall/ Daemonnews
In fact Wind River betrays BSD!!
More and more doubtful I will look to Linux
BSD Links
AllBSD.org
FreeBSD
DragonFlyBSD
NetBSD
MirBSD
OpenBSD .

Read Kurt Seifried's Page on Open BSD and Internet Security
.
Try a monetary conversion: here .